California Clean Money Campaign & Action Fund is seeking summer interns!  If you're a college student or a high school graduate who wants to learn the ins and outs of grassroots and political campaigns — while also helping pass the most powerful campaign disclosure law in the nation — please consider interning with us.  Or if you know someone, please pass along this message.
This is a great opportunity for interns with strong communication skills and attention to detail to gain real world experience in field organizing including volunteer recruitment and support, plus data and voter contact tools such as VAN and CallFire.  You'll also get the opportunity to meet and learn how to lobby elected officials to pass crucial campaign finance reforms, including a trip to the State Capitol in Sacramento!
We especially encourage applicants in political science, public service, or related fields, but anyone with a desire to learn and serve is welcome.
You'll work with other interns and and be trained and coordinate directly with our field organizers and other leaders.  Basic and advanced internship options are available.  Both require working one day a week at our Culver City office for 6 hours.  Other hours can be fulfilled by telecommuting and outside events.
Join us as an intern during the best time ever for California to expose the wealthy and special interests trying to buy our elections.  You can make a real difference and learn all about grassroots and political organizing.
Learn more about our summer internships and how to apply now!
I look forward to hear from you or somebody you know,
Logan Smith
Field Organizer
California Clean Money Campaign & Action Fund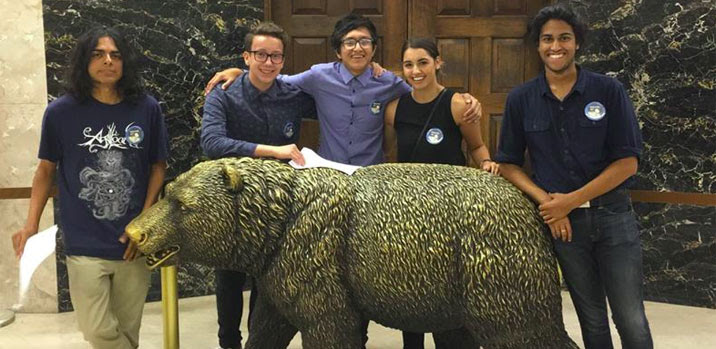 Clean Money interns at the State Capitol in front of Governor Jerry Brown's office.
Want to become a Clean Money member to fight Big Money with grassroots power?